Insanely Delicious Local Produce, Jams and other Homemade Goodies!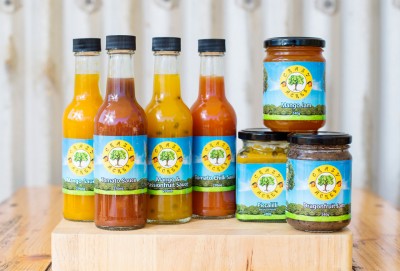 Anything we sell can be ordered for pick up from the Crazy Acres Mango Farm & Shop at Berry Springs from May til September. Pick up times are 7 days a week 9-5.30. Outside of these hours by prior arrangement only.
Year round we can organise postal delivery via Australia Post to any-where for all Homemade Preserves & Dried Mango. This does not include honey or frozen products.
Order Here
HOMEMADE GOODIES
Homemade Preserves – Jams & Pickles
Homemade Preserves – Sauces
Mango Sauce (savoury)
Mango marinade
Dried Mango
Small Pack Dried Mango 40g  SOLD OUT
Buk Pack Dried Mango 1kg     SOLD OUT
Homemade Ice Cream –
Individual portions or One litre tubs
Homemade Frozen Products
Mango Cheeks 500g
Mango Pop (pureed mango on a stick)
Mango & Coconut Pop (mango pop made with coconut cream)
Choc top Mango Pop (Original mango pop dipped in dark chocolate)
Fancy a picnic? You can pre order anything from our Café Menu between May and September to pick up. Call for same day pick up.
Don't forget your esky for take home ice creams and delicious frozen treats.